Included in delivery
viDoc
®

for smartphone
> GNSS antenna 36dbi transmit power
> Front- & ground laser
> USB-C charging cable
> viDoc
®

app
> Quick Start Guide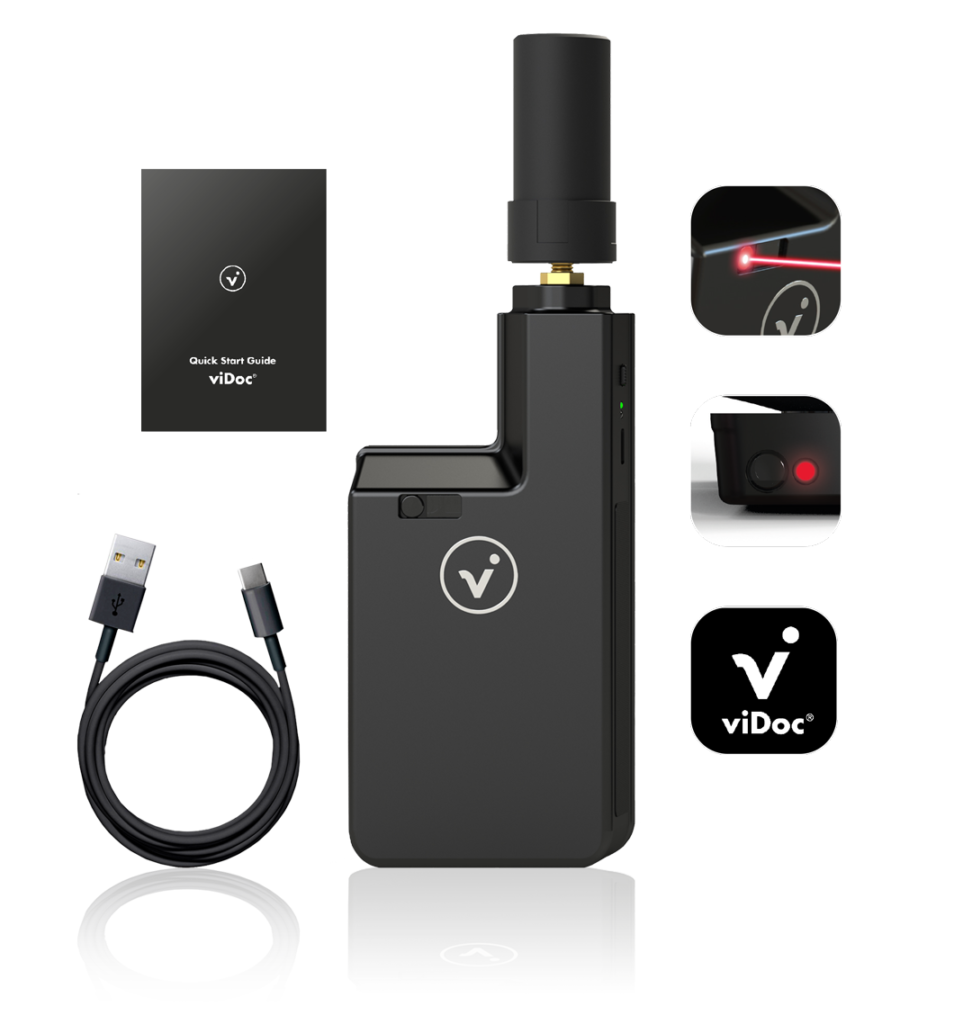 The viDoc
®

is compatible with:
IOS:
iPhone 12 Pro and newer (LIDAR sensor in iPhone required)
iPad Pro 2020–2022
Android:
Samsung Galaxy S20–S23 series (ARCore supported)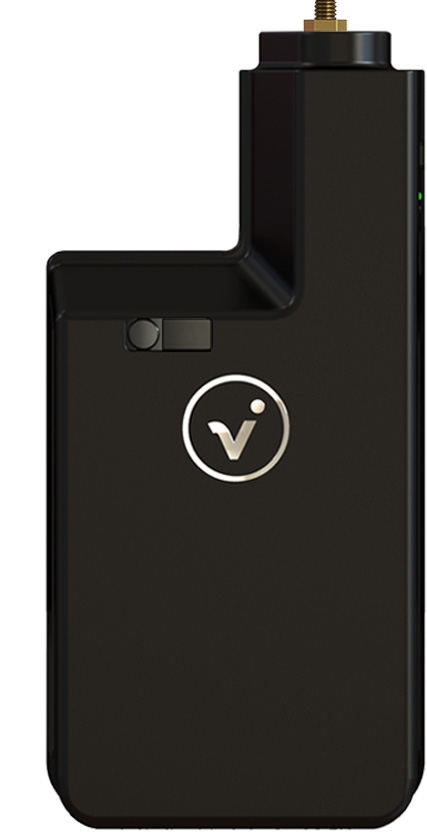 | | |
| --- | --- |
| Measurements | 153x72x19mm |
| Weight | 242g |
| Temperature range | –5 to +35°C |
| Humidiy | 5–95% (not condensing) |
GNSS antenna
Measurements
55.6mm x 27.5mm
Weight
< 19g
Temperature range
–40 up to +80°C
Humidiy
Up to 95%
Polarization
RHCP
Satellite signals
GPS: L1/L2
BeiDou: B1/B2/B3
Galileo: El/E5b
GLONASS: G1/G2
Coverage
360°
Supply voltage
3 - 16 VDC
Power consumption
< 35mA
Gain
36 ± 2dB, optional with 40 ± 2dB
Noise figure
< 1,5dB
V.S.W.R.
< 2,0
Laser
The downward laser point can be used in PIX4Dcatch App for Single Point Measurement.
The rear laser can only be used with the viDoc® App (not included).
Measurement accuracy
± 3 mm
(depending on lighting conditions,
materials and angle of impact)
Angle accuracy absolute
± 0.05°
Measuring range
Ground laser: 0.5 – 30m
Front laser: 0.5 – 15m
Laser class
2
Laser type
635 nm, < 1 mW
Measurement times
0,1 up to 4 sec.
Supply voltage
2,5 - 3,3 V
Operating temperature
0 up to 40 °C
Performance specifications
Constellation-independent, flexible signal tracking, improved positioning under challenging environmental conditions<sup>1</sup> with multi-satellite use. Reduced downtime in the event of loss of signal (up to 5 seconds).
The following satellite signals are used simultaneously:
GPS: L1C/A (1575.42 MHz); L2C (1227.60 MHz)
BeiDou: B1I (1561.098 MHz); B2I (1207.140 MHz)
Galileo: E1-B/C (1575.42 MHz); E5b (1207.140 MHz)
GLONASS:
L1OF (1602 MHz + k*562.5 kHz, k = –7,…, 5, 6)
L2OF (1246 MHz + k*437.5 kHz, k = –7,…, 5, 6)
QZSS
Positioning services2
Device type
Multi-band GNSS
high precision receiver
Accuracy of pulse signals
RMS 30ns
99 % 60ns
Frequencies of pulse signals
0,25Hz up to 10MHz
Convergence time
RTK < 10sec
Static survey
POSITION 1cm + 1ppm
HIGHT 1cm + 1ppm
RTK run up/ramp up time3
Cold start (sec) up to 90 sec
At operating temperature up to 8 sec
RTK-Position accuracy RMS4,5
(repeatability for static measurement)
POSITION 7mm at 15min
HIGHT 8mm at 15min
POSITION 15mm at 30min
HIGHT 21mm at 30min
Speed accuracy
0,05 m/s
System limits
HEIGHT 5.000 m
Acceleration < 4 g
Speed 500 m/s
IMU
Prepared
Power supply
Smartphone operating times in continuous operation:
receive and transmit
Smartphone max. 6 hours
iPad max. 8 hours
with active laser module
Smartphone max. 5 hours
iPad max. 6 hours
under real conditions
Smartphone max. 6 hours
iPad max. 8 hours
battery pack
Smartphone LiPo, 2 x 2,400mAh,
7.4Wh, 3.7V
iPad LiPo, 2 x 3,200mAh,
7.4Wh, 3.7V
Model accuracy6
absolute position and height (relativ)
with CSV+GCP data
< 2 cm
with PIX4Dcatch App

< 5 cm

with viDoc

®

App

< 10 cm
1 Challenging GNSS environments are places where there is sufficient satellite availability for the receiver as a prerequisite for minimum accuracy, but where the signal can be partially shaded or reflected by trees, buildings and other objects. The actual results may vary due to the location and atmospheric activitiy, due to strong flickering, the condition and availability of the satellite system and the degree of multipath scattering and signal coverage.
2 Precision and reliability can be affected by certain factors such as multipath scattering, obstacles, satellite geometry and atmospheric conditions. The stated specifications require stable setups, a clear view of the sky, an environment free of electromagnetic interference and multipath scattering, optimal GNSS configurations and, in addition, surveying methods as they are usually used for surveys of the highest order with occupation times adapted to the base lengths. Baselines over 30 km in length require ephemeris accuracy and occupation times of up to 24 hours may be necessary to achieve high-precision static specification.
3 Accuracies may be affected by atmospheric conditions, multipath signals, shadowing and satellite geometry. The reliability of the initialisation is permanently transmitted to ensure the highest quality. Compensations are solved on the software side.
4 RMS efficiency is based on repeatable on-site measurements. The achievable accuracy and the initialization time can vary depending on the type and performance data of the receiver and antenna, the geographic location of the user, atmospheric conditions, scintillation intensity, the status and availability of the GNSS constellation, the degree of multipath scatteing and the proximity to shading (e.g. from large trees and buildings) vary.
5 Measurement iterations based on 1 minute. Better position accuracy through error rate filtering.
6 The models were mapped with a viDoc® Rover and an iPhone 13 Pro. The model accuracy depends on the environmental conditions and the calculation settings. The results may vary depending on the software provider.
Here you can download the technical data.
download